Is Removing Your Pubic Hair Safe?
A lot of people think that removing pubic hair is the best option and the debate about whether one should or shouldn't remove their pubic hair has been long raging. Although doctors have advised against it, due to the possibility of getting an STI (Sexually transmitted infection), some women still choose to go completely bare down there. 
Is it hygienic and safe?
59% of the respondents to the JAMA Dermatology survey conducted by Dr. Benjamin Brevor, a urologist at the University of California have confirmed that they indeed choose to remove their pubic hair for hygienic reasons. However, removing pubic hair, especially regularly can cause injuries and cuts that allow bacteria to penetrate. So, what you may think is good to keep you clean down there, might actually be the cause of 'not so cool' infections. The only thing you're dodging here is pubic lice.
the JAMA survey also found that a quarter of the people who use shaving, waxing, sweat, or scissors to clean up down there experience injuries. These injuries include: burns, cuts and rashes.
Well, you should avoid shaving at all costs. First off, shaving can cause the growth of ingrown hair and after a while, you'll find that the new hair that's growing has become thicker, taller and darker.
Second, through the survey, it was discovered that more than 60 percent of the injuries were related to cuts, meaning shaving was more dangerous.
Waxing is slightly safer, but still leaves the skin exposed for cuts or ingrown hairs.
Dr. Brever advised grooming less often and removing less hair to minimize the risk.
Baytak Nadeek: Newest Online Initiative By Sports For All to Get You Moving
You can now workout from home with the help of the Saudi Sports for All Federation which is making sure you stay in shape during this quarantine, by providing you with an excellent fitness from home program called Baytak Nadeek! 
The program features five trainers who are ready whenever you are to get back on track and get you moving, it is the best way to take advantage of the long stay at home.
SFA President, HRH Prince Khaled bin Alwaleed bin Talal Al Saud, has invited all Saudis to join and be part of this fitness community, the new Baytak Nadeek initiative is part of a larger program which is designed to create a healthier and active community.
"The SFA, collaborating with our Baytak Nadeek Trainers, reaches out to each and every one of you with this latest phase of our National program to keep you active at home and to keep everyone living in Saudi closely connected online," said Prince Khaled to encourage citizens to take part and congratulate the five trainers on their commitment to the cause.
These fitness experts who are participating in the initiative will provide you with home workout with a number of easy-to-do videos covering aerobics, calisthenics, yoga, and other disciplines.
"During a time like this, physical activity and training is a way to combat isolation, monotony, inactivity and demotivation. Creating this virtual Baytak Nadeek community helps us stay connected and inspired for a better life. Training has always been my source of mental peace and growth." said Najia, one of the trainers.
"Keeping an active routine helps to minimize feelings of negativity and fear of the unknown. Behavior dictates attitude and vice versa, staying active has allowed me to maintain a positive approach and outlook on life during this period," she added.
Now really you have no excuse to skip that workout! All you have got to do is get up from the couch and click here to start exercising! Remember, a healthy mind comes from a healthy energetic body.
Mawid: The Kingdom's Health App Now Offers Coronavirus Self-Assessment
The Health Ministry has upgraded its Mawid application to include a self-assessment feature that shall provide consultation for the public amid the outbreak of COVID-19. 
This newly introduced feature covers a list of questions, guidelines and instructions, which are all based on the users' recent travel history and their symptoms.
The feature is designed to help those who have suspicions regarding their health status and to self-assess their case if they show any symptoms.
"If you suspect you have COVID-19 symptoms, please download the Mawid app and use the self-assessment tool to get guidance," said Saudi Minister of Health Dr. Tawfiq Al-Rabiah.
So far, consultation services have been provided for around half-a-million people by the Health Ministry and around 250,000 self-assessment tests have been made through this Mawid app.
The application follows the "Central Appointment System" which allows keeping track of referral appointments, and helps users in making appointments at one of the 2,400 health care centers.
The application offers its valuable services free of charge, all you have to do is download the app and sign in with your Absher username and password.
The Mawid app is available for both Android and iOS.
How to Dye Your Hair At Home Like a Pro
Since we're all basically stuck at home with almost nothing to do, this is the right time to get your game on! For those of you who are in need of a major hair dye because your roots are starting to show, this article's for you. Now, for those who actually haven't dyed their hair before and have decided to do so today for a change, this too is for you.
All hairdressers are currently closed due to the Coronavirus outbreak. On the other hand, Supermarkets and Pharmacies are still open to fulfill peoples' necessities. Since you'll be dying your hair at home, it's important to get all you need prior to dying your hair so as not to keep going to and fro in this unsafe time.
What you'll be needing is your ideal hair dye of whatever color you think may suit you or you feel like you want to rock. You'll be needing a pair of gloves so as not to stain your hands, and lastly a few brushes that are essential to use for dying the hair.
Yes coloring your hair at your bathroom sink is quite the risk but with this expert advice, we'll be able to guide you through every step of the way. It's very crucial to moisturize your hair prior to dying it because hair dye tends to take the natural moisture and shine your hair secretes.
Also, you gotta test out the color you've chosen to dye your hair with first on a small strand, if it does you wonders and you're satisfied with the shade, go all the way and start dying!
Another tip is to add Vaseline on the outline of your scalp. Why? Hair dyes are sometimes irritating and damaging to the skin which is why Vaseline's your best friend throughout this entire process!
Before commencing, you have to know what category your hair falls under. Do you have dry hair? Dull? Aging? Each has its own way and preferable hair dye to use!
Dry Hair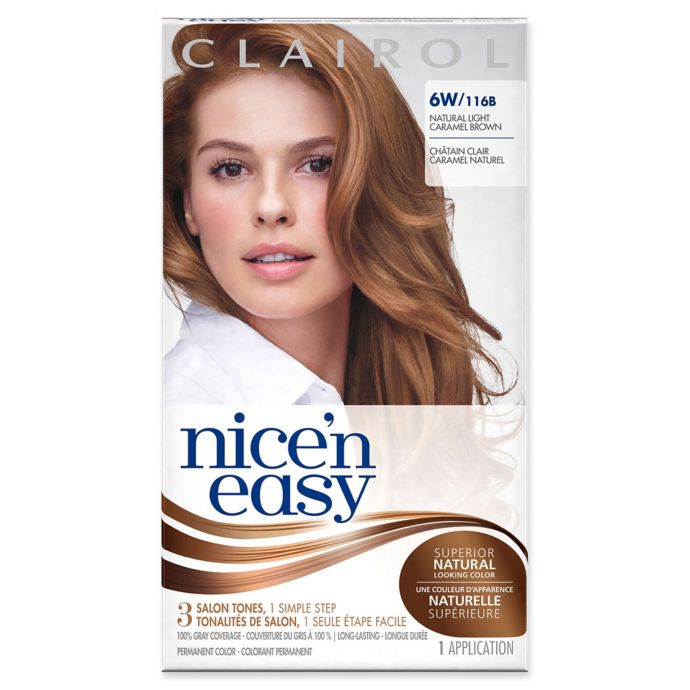 "Clairol Nice'n Easy Permanent hair dye" is your go to if you've got dry hair! It's infused with a great amount of conditioners that will definitely make your hair look and feel healthy. Also, it's formulated with new color molecules which actually reduces the risk of having an allergic reaction!
Dull Hair
For a good choice of hair dye that promises beautiful hair and more volume, Garnier's newest Olia hair color is amazing for such a cause. What's great about this product is that 60% of its ingredients is made out of flower oils to truly allow your hair to get the moisture and treatment needed. Best thing is that it's made out of ammonia which helps deliver an intense color without having any harsh fragrances suffocating you.
Aging Hair
Since today's mother's day, you can take the time to give your momma an at home hair dye experience to let those gray strands disappear! The most expert gray covering hair dye is the "L'Oreal Excellence Triple Protection Permanent Hair Color". It's available in 37 shades which leaves more room for your momma to pick her favorite shade! Also, it's filled with ingredients like Collagen and Keratin which promises healthier hair.
There you have it, a guide to dying your hair at home in times of Coronavirus! Make one swift trip to your nearest Supermarket or Pharmacy and have your at home spa day! Believe me, it's not that complicated to dye your hair, all you need to do is be careful and follow the steps.