Demi Lovato Isn't "Sober" Anymore After Overdose Heroine
Singer Demi Lovato is awake and with her family after being hospitalized earlier Tuesday, according to a statement from the singer's representative.
A source close to Lovato's family said that the singer's hospitalization was the result of an apparent drug overdose.
"Demi is awake and with her family, who want to express thanks to everyone for the love, prayers and support," said the statement from Lovato's representative. "Some of the information being reported is incorrect and they respectfully ask for privacy and not speculation as her health and recovery is the most important thing right now."
The Los Angeles Fire Department received a call at 11:22 a.m. for a medical emergency and transported a 25-year-old woman to a hospital.
A senior law enforcement confirmed that Lovato is at Cedars-Sinai Medical Center in Los Angeles. She is stable, conscious and breathing, thankfully.
Lovato was not partying alone before she was found unresponsive in her Los Angeles home and her family and friends had feared she was hanging out with people who were encouraging her drug habit. The source also said Lovato was dating someone her family wanted her to stay away from.
Lovato's family is now focused on providing a clean, safe place for the singer to heal. Lovato's friends reportedly used the medication Naloxone, sometimes referred to as Narcan, which can reverse the effects of opioid overdoses to treat the 25-year-old after she was found unresponsive at her home Tuesday morning.
"I think it was very wise for her friends, or family, or whoever it was to have Narcan on hand. They probably saved her life," addiction psychiatrist Dr. Laurence Westreich said to CBS.
However, on Wednesday afternoon, a source close to Lovato denied reports she had been treated for an overdose of heroin.
Demi Lovato's famous friends are rallying around the singer in light of news about her hospitalization.
"i love u @ddlovato," singer Ariana Grande wrote on Twitter.
Singer Missy Elliott wrote, "You just never know what people are going through so please have compassion & no jokes," she said. "But let's be encouraging so she will get the help she needs."
A representative for Lovato did not immediately return request for comment.
"So sorry to hear about Demi Lovato being hospitalized. Sending love and healing prayers to her," talk show host Wendy Williams wrote.
Singer Lily Allen called Lovato a "beautiful spirit" and expressed hope that Lovato "makes a full recovery soon."
Talk show host Ellen DeGeneres added: "I love @DDLovato so much. It breaks my heart that she is going through this. She is a light in this world, and I am sending my love to her and her family."
Lovato has been open in the past about her struggles with addiction.
In March, she celebrated six years of sobriety, but admitted in June that she'd suffered a relapse.
"My whole heart and my whole soul is with @ddlovato today. I adore you and so does the entire world," actress Ruby Rose wrote. "You will fight this and you will come out of it even stronger. Addiction is powerful beyond measure, but you can defeat it."
"I love you @ddlovato and I'm praying for your strength and health," Emmy Rossum added.
Tyra Banks added, "Addiction is not a choice. My heavy heart sends healing love to @ddlovato, and I pray she recovers fully and with great health."
Lovato's fans also came together in light of her hospitalization, using #PrayForDemi and #StayStrongDemi. The terms sat at the top of Twitter's list of trending topics in the hours following the news.
Lovato's hospitalization comes just weeks after the singer, who has struggled with substance abuse, revealed she had recently suffered a relapse.
The pop star made the revelation about the setback in a single, "Sober," released late last month.
Lovato, who turns 26 next month, said in March that she was celebrating six years of sobriety.
The singer has spoken candidly in interviews about her use of cocaine and addiction to alcohol, as well as mental health issues and an eating disorder.
"Sober" did not reveal the nature of Lovato's relapse.
"I'm sorry for the fans I lost who watched me fall again," Lovato sings in "Sober." "I want to be a role model but I'm only human."
The lyrics also include Lovato singing, "I'm sorry that I'm here again. I promise I'll get help."
Lovato was supposed to appear on the Tuesday night episode of the Fox game show "Beat Shazam," which is hosted by Jamie Foxx, but a network spokesperson said the show would air a different episode in its place "in light of recent reports."
Lovato taped her guest appearance on the show in December 2017.
Lovato was next scheduled to perform on Thursday in Atlantic City, New Jersey, but her appearance has been canceled, unfortunately.
Lovato got her start in entertainment at age ten as a regular on the children's series "Barney & Friends."
That led to guest roles on TV shows like "Prison Break" and "Just Jordan," followed by Disney Channel's "As the Bell Rings."
Lovato's role as aspiring singer Mitchie Torres in the Disney TV movie "Camp Rock" introduced the world to her musical talent. Her debut album, the pop-rock "Don't Forget," released in 2008.
As a regular on the Disney series "Sonny with a Chance," and Lovato became one of the network's brightest young stars.
Her second album, "Here We Go Again," released in 2009.
After three seasons on "Sonny with a Chance," Lovato announced she was leaving the show to focus on recording and her third album, "Unbroken."
She later had a recurring role on the Fox series "Glee" and served as a judge on the reality singing competition "The X-Factor" for two seasons.
Lovato's self-titled album, "Demi," released in 2013. Her albums "Confident," which earned her a Grammy nomination, and "Tell Me You Love Me" followed.
Her hits like "Skyscraper," "This Is Me" (a duet with ex-boyfriend Joe Jonas) and "Sorry Not Sorry" firmly established Lovato as a pop superstar.
Lovato's most recent North American tour leg, which ran from February to April, grossed more than $20 million, according to tracking by Pollstar.
Citing production issues, Lovato postponed the South American portion of her tour in April.
She last performed July 22 at the California Mid-State Fair in Paso Robles, California.
Just two days earlier at a concert in California, Lovato had trouble remembering the lyrics to her recently released emotional ballad "Sober" and walked off stage.
In "Sober", Lovato admitted she relapsed after six years of sobriety. She's been in rehab twice before, the first time at age 18. Still, her overdose took fans and fellow artists, including Meghan Trainor, by surprise.
"I didn't know it was that bad," Trainor said.
Lovato's family is going to do everything in their power to help get Lovato back on track and are making plans to get her straight into rehab.
We, The What's Up Cairo Team, send our love and kind regards to Demi Lovato and we hope her a speedy recovery!
After Months of Dispute, Assala and Ahlam Finally Reconciled!
We have some uplifting news for you! After months of dispute and tension between Assala and Ahlam, both superstars finally made up following the interference of Ahlam's son Fahed Mubark who tweeted that his mother actually listen to Assala more than he does.
Assala then replied to his tweet expressing her love to Ahlam despite everything that happened between them, she even joked with her and asked her which song she liked the most in the album.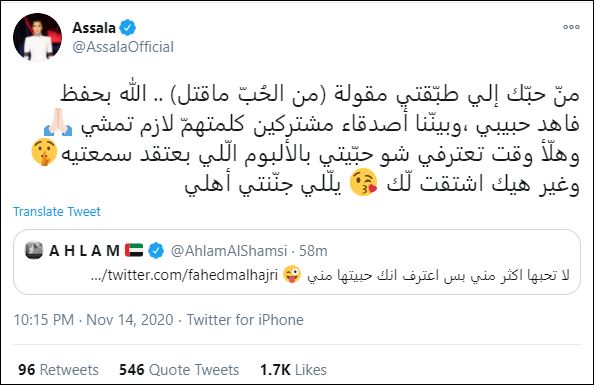 The two superstars then started to exchange tweets, to which Lebanese star Elissa replied and expressed her happiness that they have finally made up, saying that she love the both of them and wishes them good. This isn't the first time Elissa tries to make things better between them both.

The story of this dispute first started when Ahlam congratulated Assala for her new song "Bent Akaber," but when Assala didn't reply on the post, Ahlam deleted it and the clash ended with her blocking Assala on Twitter.
We're just glad that after all this time, they both admitted their love to one another and Ahlam even tweeted a reply to her son that she loves Assala more than he does.
We wish them both happiness and for things to remain peaceful between them both.
The Phenomenal Women of Saudi Arabia
Ever since Saudi women have been given the chance to shine, they didn't fail to impress us with becoming the firsts in fields that were once thought of as male dominated jobs, Saudi women are incredible figures with the power and will to shape their future the way they want it to be.
Meet the following phenomenal women of Saudi Arabia, the leaders and business owners, the ones who inspire us all!
Princess Reema bint Bandar bin Sultan
Princess Reema is the first Saudi woman to head a multi-sports federation and the first female ambassador to the US! she is also an astounding entrepreneur who was once the CEO of Al Hama LLC- a luxury retail corporation.
The leading philanthropist and entrepreneur, has been the vice president of women's affairs at the General Sports Authority (GSA) since 2016 up until her appointment as the ambassador. She was also appointed to the International Olympic Committee (IOC) in August 2018, and was the president of the Saudi Federation for community sports in 2017.
Ameerah Al Taweel
Ameerah Al- Taweel is a philanthropist and women's rights advocate. Ameerah is always visiting different countries to give speeches, educate, help and spread her valid opinions via twitter to more than 1.4 million followers, on matters she feels strongly about.
She is truly a strong representation of the females in the country!
Somayya Jabarti
Jabarti is one of the female pioneers in the Kingdom considering she is the first female editor of the leading newspaper; the Saudi Gazette! She is a bold journalist who constantly speaks her mind, in addition to fighting for women's rights. She is a fearless reporter, and was the only Saudi journalist on the ground during the 2011 Egyptian revolution.
When she was appointed editor in 2014, she said "a crack has been made in the glass ceiling, and I'm hoping it will be made into a door." Amen to that.
Hanadi Al Hindi
The first Saudi female pilot who was able to actually fly in the Kingdom, after being granted this license by the General Authority of Civil Aviation (GACA).
Lubna Olayan
She is the CEO of Riyadh-based Olayan Financing company, Lubna Olayan is a force to be reckoned with. She has been running her father's company and contributed in making the company of the biggest investors in regional stock markets as well as in the Kingdom.
She was also named the #1 Most Powerful Arab Businesswoman by Forbes in 2017.
Lojain Omran
The Saudi TV presenter and prominent host who has a remarkable social presence and just yesterday, she announced that she is set to conquer yet another field that we're sure she's going to excel in it! The field of cinema and drama.
Basma Elkhereiji
The entrepreneur is the founder and CEO of The Social Group, and has launched her first restaurant, The Social Kitchen, in 2018 and then swiftly launched its follow-up; The Social Bakery, soon after, due to its success. She's become such a high-profile trailblazer for the Saudi hospitality industry.
Happy International Women's Day everybody and to all the leading women out-there, may we know you, may we be them, may we raise them!
Meet DJ Cosmicat: The Kingdom's First Female DJ Dropping Sick Beats
Women of Saudi Arabia are capable! Women of Saudi Arabia are impressive! They keep proving it to us day by day, women of Saudi Arabia are fearless and they're not scared to break stereotypes and dominate new fields, and here is another example!
Meet DJ Cosmicat, the Saudi female DJ spinning the hottest tunes and one of the DJs contributing greatly to the music scene in the Kingdom.
The Jeddah-based artist has successfully made it as one of the most talented acts in the Kingdom's Electronic Dance Music (EDM) scene. She rose to the surface after the region's largest music festival MDL Beast that was just recently held in Riyadh, now thanks to the festival, she's now on every favorite list of every EDM enthusiast.
"Things are changing really fast, for the better," Cosmicat said in a statement released by the organizers. She also said, "It's great for the locals and for local artists, it gives them such a huge platform to show the world what Saudi is capable of."
Commenting on the social and entertainment reforms that have been happening in the Kingdom, Cosmicat told Gulf News, "a lot of talented Saudi musicians rose to the surface and are finally got the attention they truly deserve from locals and worldwide."
Cosmicat is her stage name that is inspired from her love of cosmology and fondness for cats.
Not only is Cosmicat the first female DJ in Saudi Arabia, she's also excelling as a TV host on MBC1! What's even more impressive and shocking is that she originally was a dentist to be before she found her true calling in DJing.
Cosmicat is an example of what a determined woman can achieve, she's a self-taught artist who worked on herself by researching online and now, she's one of the DJs turning heads in the Kingdom and has been playing gigs for over two years! Even her inspiration is derived from other fellow female DJs like Charlotte de Witte, Peggy Gou and Nina Kravis. 
So, what about you? Would you shift your career to follow your dream and true calling?