After Months of Dispute, Assala and Ahlam Finally Reconciled!
We have some uplifting news for you! After months of dispute and tension between Assala and Ahlam, both superstars finally made up following the interference of Ahlam's son Fahed Mubark who tweeted that his mother actually listen to Assala more than he does.
Assala then replied to his tweet expressing her love to Ahlam despite everything that happened between them, she even joked with her and asked her which song she liked the most in the album.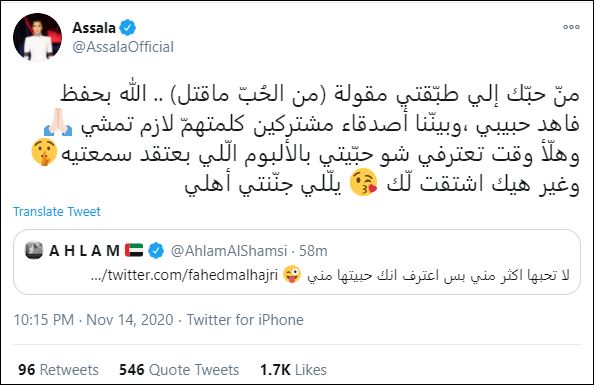 The two superstars then started to exchange tweets, to which Lebanese star Elissa replied and expressed her happiness that they have finally made up, saying that she love the both of them and wishes them good. This isn't the first time Elissa tries to make things better between them both.

The story of this dispute first started when Ahlam congratulated Assala for her new song "Bent Akaber," but when Assala didn't reply on the post, Ahlam deleted it and the clash ended with her blocking Assala on Twitter.
We're just glad that after all this time, they both admitted their love to one another and Ahlam even tweeted a reply to her son that she loves Assala more than he does.
We wish them both happiness and for things to remain peaceful between them both.
Ronaldo Lights up Burj Khalifa In Celebration of His Girlfriend's Birthday
Georgina Rodriguez Cristiano Ronaldo's girlfriend had just had astonishing birthday celebration, as her boyfriend had just lit up the Burj Khalifa for her. After lighting up one of the world largest buildings with her face for her birthday, and got parts of her latest netflix series I Am Georgina, to celebrate the occasion. The football star had featured her name in large bold white letters and, wrote a message in white letter "Happy Birthday Gio", as she couldn't be happier, it ended with a laser show and a dinner with their children. Above the moon she stated on Instagram, "This exciting day is over, I cannot articulate words, thank you, thank you, thank you Cristiano Ronaldo. You make me happier every day. Thank you Dubai for always treating us so well and making us feel at home. Thanks to all of you who have worked to make this day so special. And thank you for always rejoicing in my happiness and that of my family. I love you with all my heart.", as she posted a photo teary eyed next to her boyfriend Ronaldo. Above all it was an astonishing experience for her.
Kylie Jenner Instagram makes History As She is the First Woman with 300Million Followers
Kylie Jenner our iconic socialite and beloved social figure reaches a whopping 300 million followers on her Instagram. After Ariana Grande, Selena, and football player she is the second most followed person on the app. As she promotes her lifestyle brands, makeup products and announces her news on her platform. In her posts and stories she displays her motherhood journey, her glamorous sisters, and her latest news. Accordingly, to her latest post, she had showed her pregnancy and baby pump, in addition to her love of parenting and spending time with her family and fiancé Travis. Moreover, some fans could be speculating that she had already bared her child. Though the social figure is living a peaceful life that she had highly anticipated for.
Kim Kardashian A Socialite is Sued over a Crypto Scam
The highly established personality Kim Kardashian is sued for promoting a crypto currency. In her social media posts, she had been seen promoting a currency called Ethereum Max, in addition to Floyd Mayweather. The currency had dropped 97% of its value since early June. As some may call it pump and dump. The celebrities had made some fake and misleading statements in social media posts that had been taken legally against them. The starlet with hundred million of social media followers had made misleading statements. This was made in a post when Kim Kardashian had stated are you guys into crypto. The audiences had been all mesmerized by her statement. Since Kim Kardashian had made certain remarks about crypto, in her posts all followers where stirred and mixed up b controversy. The post was acutely a advert for a crypto currency. The promotion had a statement of cryptocurrency promotion. All in all the promotion of crypto by influencers is a controversy, what do you believe?