6 Incredible Body Lotions & Butters for that Fresh Summer Skin Under 200 EGP
We all know how damaging summer can be for our skin. All that sea salt, sun exposure and hot weather make it hard to maintain healthy skin. But some body lotions, creams and butters descended from heaven for that exact same purpose; to keep your skin silky smooth during hard times and at the same time keep you smelling like a baby cherub:
1. Yves Rocher Vanille Bourbon Sensual Body Lotion 

Price: 181 EGP
This product is perfect if you like extra sweet scents. The smell of the delicious vanilla is strong and it definitely stays with you for a good period of time. The 390 ml product is also an incredible moisturizer, giving your skin that beautiful shiny glow making your skin look smooth and healthy.
2. Nefertari's 100% Natural Face and Body Silky Cream with Oranges
Price: 137 EGP
This one smells so good, it'll make you feel like you've instantly been transported to an orange farm in Tuscany. Its ingredients include wheat germ oil, coconut oil, cocoa butter, bees wax and essential oil of oranges. The buttery texture makes for a slightly greasy product, but the result is velvety skin that smells like a fresh orange pie. One jar of this product will last with you for a long time.
3. Urban Ducks Coconut Bomb Body Butter
Price: 140 EGP
This product is also made up of all-natural ingredients, including shea butter, coconut oil, jojoba oil, vitamin E, distilled water and natural preservatives. Summer means coconut and the coconut in this products smells loco good! The skin absorbs this product fast and and the healthy shine of it is definitely noticeable.
4. Palmers Cocoa Butter Lotion
Price: 121 EGP
This one's a classic that never fails at pleasing your skin! There is no doubt that this Cocoa Butter formula is one of the best skin moisturizers on the market, with its thick texture, its smooth as silk effect and its mouthwatering cocoa scent; this Palmer's miracle will do wonders for your skin.
5. Spa Lavender Mint Gel Lotion
Price: 137 EGP
This amazing gel lotion is perfect for calming and moisturizing. It is lightweight and easily absorbed and according to BCL Spa's website "Gel Lotions are perfect for those who want a heavy dose of hydration without the heavy, greasy after-feel of a thick cream".
6. The Body Shop Shea Whip Body Lotion

Price: 160 EGP
This intense moisturizer is made especially for very dry skin as it has super hydrating powers due to its main ingredient; shea butter. The whipped lotion is lightweight, sweet scented and positively nourishing.
Mawid: The Kingdom's Health App Now Offers Coronavirus Self-Assessment
The Health Ministry has upgraded its Mawid application to include a self-assessment feature that shall provide consultation for the public amid the outbreak of COVID-19. 
This newly introduced feature covers a list of questions, guidelines and instructions, which are all based on the users' recent travel history and their symptoms.
The feature is designed to help those who have suspicions regarding their health status and to self-assess their case if they show any symptoms.
"If you suspect you have COVID-19 symptoms, please download the Mawid app and use the self-assessment tool to get guidance," said Saudi Minister of Health Dr. Tawfiq Al-Rabiah.
So far, consultation services have been provided for around half-a-million people by the Health Ministry and around 250,000 self-assessment tests have been made through this Mawid app.
The application follows the "Central Appointment System" which allows keeping track of referral appointments, and helps users in making appointments at one of the 2,400 health care centers.
The application offers its valuable services free of charge, all you have to do is download the app and sign in with your Absher username and password.
The Mawid app is available for both Android and iOS.
How to Dye Your Hair At Home Like a Pro
Since we're all basically stuck at home with almost nothing to do, this is the right time to get your game on! For those of you who are in need of a major hair dye because your roots are starting to show, this article's for you. Now, for those who actually haven't dyed their hair before and have decided to do so today for a change, this too is for you.
All hairdressers are currently closed due to the Coronavirus outbreak. On the other hand, Supermarkets and Pharmacies are still open to fulfill peoples' necessities. Since you'll be dying your hair at home, it's important to get all you need prior to dying your hair so as not to keep going to and fro in this unsafe time.
What you'll be needing is your ideal hair dye of whatever color you think may suit you or you feel like you want to rock. You'll be needing a pair of gloves so as not to stain your hands, and lastly a few brushes that are essential to use for dying the hair.
Yes coloring your hair at your bathroom sink is quite the risk but with this expert advice, we'll be able to guide you through every step of the way. It's very crucial to moisturize your hair prior to dying it because hair dye tends to take the natural moisture and shine your hair secretes.
Also, you gotta test out the color you've chosen to dye your hair with first on a small strand, if it does you wonders and you're satisfied with the shade, go all the way and start dying!
Another tip is to add Vaseline on the outline of your scalp. Why? Hair dyes are sometimes irritating and damaging to the skin which is why Vaseline's your best friend throughout this entire process!
Before commencing, you have to know what category your hair falls under. Do you have dry hair? Dull? Aging? Each has its own way and preferable hair dye to use!
Dry Hair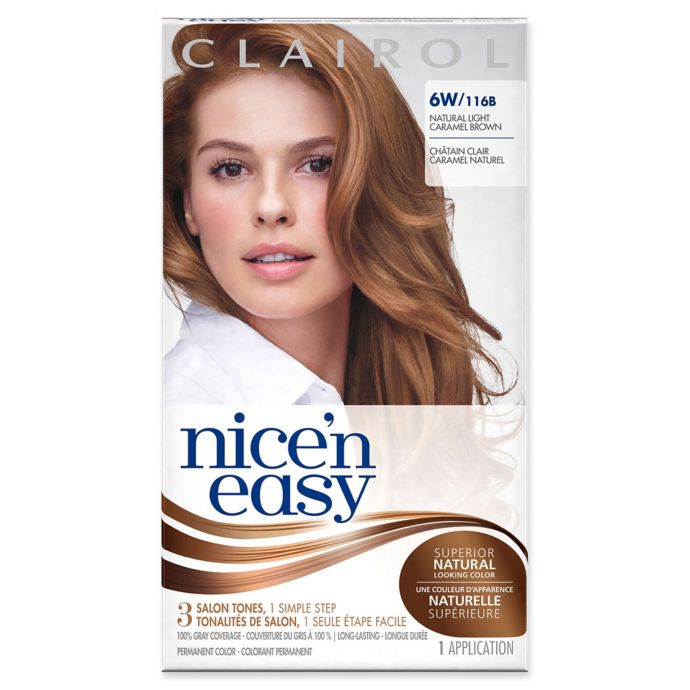 "Clairol Nice'n Easy Permanent hair dye" is your go to if you've got dry hair! It's infused with a great amount of conditioners that will definitely make your hair look and feel healthy. Also, it's formulated with new color molecules which actually reduces the risk of having an allergic reaction!
Dull Hair
For a good choice of hair dye that promises beautiful hair and more volume, Garnier's newest Olia hair color is amazing for such a cause. What's great about this product is that 60% of its ingredients is made out of flower oils to truly allow your hair to get the moisture and treatment needed. Best thing is that it's made out of ammonia which helps deliver an intense color without having any harsh fragrances suffocating you.
Aging Hair
Since today's mother's day, you can take the time to give your momma an at home hair dye experience to let those gray strands disappear! The most expert gray covering hair dye is the "L'Oreal Excellence Triple Protection Permanent Hair Color". It's available in 37 shades which leaves more room for your momma to pick her favorite shade! Also, it's filled with ingredients like Collagen and Keratin which promises healthier hair.
There you have it, a guide to dying your hair at home in times of Coronavirus! Make one swift trip to your nearest Supermarket or Pharmacy and have your at home spa day! Believe me, it's not that complicated to dye your hair, all you need to do is be careful and follow the steps.
Ensuring Riyadh's Health Status
In a time of crisis such as now, precautions to prevent being infected due to the airborne coronoavirus are on-going and strict measures are being implemented at Riyadh's ports. People are extremely worried about the extremities of this new airborne virus which is why officials are doing their best to strengthen health facilities on a regular basis.
Due to the Ministry of Health Dr. Muhammad Al Abdulaali, retrieved by the SPA Saudi Press Agency, claimed that the necessary measures for the virus depends and may alternate on a daily basis. It depends on the outcomes that are retrieved as well as full monitoring of the global and regional risks.
Based on the words of both Dr. Al Abdulaali as well as the minister, effective health monitoring as well as protocols are under process. Any person to test positive will be announced publically to keep everyone updated and the infected person will undergo severe quarantine for their own benefit as well as the benefit of the entire kingdom.
Dr. Al- Abdulaali has shown extreme importance for those who are returning to the Kingdom from abroad. He declared it a necessity for people to declare where they are coming back from as soon as they arrive at the border crossing point, airport, or even seaport. This is important for those who are returning from coronavirus hotspots which is why they need to know in advance, to allow time and room for the necessary quarantine procedures.
The health authorities have provided the public with a toll free number 937 so as to ensure protection for themselves, their families, and the surroundings as well as the society as a whole. This is a great way to ensure the proceedings of the health protocols.
Dr. Al-Abdulaali has drawn attention to the fact that the reason Saudi Arabia first got infected by the airborne virus was from the five coronavirus infected cases that have come from Iran, leaving Iran not only at fault but also infected.
Both the Global Center for Mass Medicine and National Center for Preventing and Combating Disease as well as other authorities are still continuing to work on mass medicine to help put a stop to this infectious virus once and for all.
"Saudi Arabia on Thursday denounced Iran's irresponsible action of granting Saudi citizens entry to its territories without stamping their passports, especially at a time where there is an outbreak of coronavirus (COVID-19) in Iran."
What is to become of the world in the aftermath of the Coronavirus?